Apply online
Visit our office
Mail documents
We prepare your documents and application
Receive visas
Submit application in person
Expert in Botswana visa services since 2015,
VisaHQ is a private visa agency, not affiliated with the government of Botswana. VisaHQ provides
expediting services
error-proofing your application
hand-carry delivery to Consulate
real-time status updates
dedicated call center
for visa to Botswana and charges a service fee. See how we compare in the 90 seconds
video
and provide digital copies of the following documents:
a
Passport. The passport must have left validity of at least six months and more with at least three or more unused pages.
b
Passport-type photograph. A recent passport-type photo of the applicant, in JPG format not bigger than 30Kb in size
c
Payment. A valid debit/credit card to pay the Botswana visa fee

d
Email address. A current email address to which to receive the approved e-Visa for Botswana.

e
Itinerary. Tour plan or copy of travel schedule

f
Hotel Booking. Confirmation of bookings at hotel/lodges

g
Flight bookings. Copy of return ticket

Additional Requirements
•All supporting documents must be in English and uploaded as ONE Pdf file not bigger than 5Mb in size

•Copies of required documents must be certified.

•Applicants without name/surname should add '(apostrophe) on the field to represent no name/surname
Botswana Tourist E-visa fees for citizens of China
Type of visa

Validity

Maximum validity refers to the period over which you are allowed to enter a given country. Validity of visa starts from the date of issuance of visa.

Processing

Processing times start on the next business day following submission and serve as indications of processing times under normal circumstances only.

Embassy fee

Service fee
MwSt (19%)
Total cost

Single Entry

up to 1 month
7-14 business days
24.00
59.00
11.21
94.21

Multiple Entry

up to 3 months
7-14 business days
40.00
59.00
11.21
110.21
Validity: up to 1 month
Processing: 7-14 business days
Total cost: 94.21

Cost calculation

Embassy fee:

24.00

Processing:

59.00

MwSt (19%):

11.21

Total cost: 94.21
Validity: up to 3 months
Processing: 7-14 business days
Total cost: 110.21

Cost calculation

Embassy fee:

40.00

Processing:

59.00

MwSt (19%):

11.21

Total cost: 110.21
Botswana visa for citizens of China is required. For more information please contact the nearest
Botswana embassy
.
Botswana visa information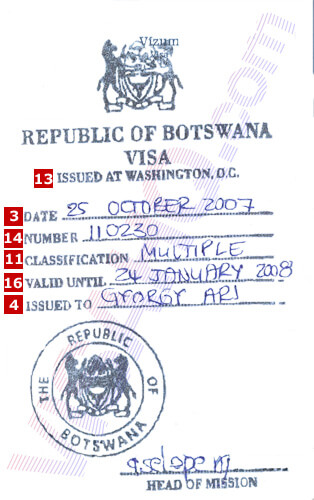 3
Botswana Visa issue date (format might be different from MM-DD-YYYY).
4
Name of Botswana visa holder
11
Number of allowed entries to Botswana (subject to visa validity dates).
13
Botswana Consulate that issued a visa.
16
Date of Botswana visa expiration